Transliter is a Windows tool to transliterate your latin input to cyrilic:
Transliter is a Windows tool for transliterating with "qwert" keyboards inputs into languages such as: Russian, Ukrainian, Armenian, Belorussian, Lithuanian, Hebrew, Greek, Georgian, Tajik, where the letters are fully different - (like: абц, αβς, אבצ, աբց, აბც) and the output is directly in the desired language.

For example: You press the letter "D" on your keyboard and the tool converts this "D" into Russian "Д" or Greek "Δ" or any other language that you can set in the settings. The program automatically converts the letters in Microsoft Windows, in all windows and programs – directly (also in games). So you don't need to go to "translit pages", to write text on the page, copy it, paste it… With this tool, it happens immediately.
The program does not use any system-critical functions. Therefore, you do not need administrator rights in Windows to use the program. Thus, you can use the program at your workstation or on other computers where you only have a "guest access". The only thing you need is .Net Framework 4.0 or higher installed on your PC and an internet connection (license check and updates).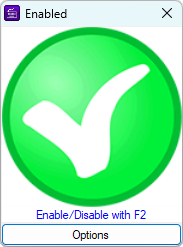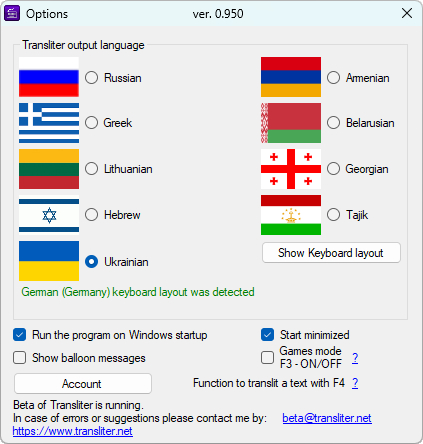 News and information about the Transliter project:
19.03.2023 - I'm still looking for native speakers in the following languages: French, Spanish, Italian, Greek, Lithuanian, Hebrew and Belarussian to check the translation of the website and to eliminate possible grammatical errors. The translation of the website in these languages was done with Google.